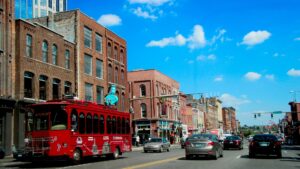 Pedicabs are ready to roll in Nashville making it easy for people to get around Music City.
Why pedicabs? Pedicabs make it easy for people to get to where they need to go, stress-free!
All our drivers are trained and are knowledgeable of the city working as your own personal GPS.
Roll in style, and soak in the city lights from a cycling perspective. Want to stop and check out a new place on Broadway?
Let us navigate your way to the famous Honky Tonk Row!
Whatever your flavor or mood pedicabs are a perfect way to tour the beautiful city! See you soon Nashville!